The joy of travel makes my full-time job a breeze. No wonder Matsuo Basho said, "The journey itself is my home."
In the years leading up to my 50th, I decided on a goal to visit every state in the United States, and this year, I was ready to create memories in Alaska. It so happened that the Princess Cruise Line Seminar at Sea took us on an Alaskan Sampler Journey in the Summer of '23. This meant we might head out to discover the highest zip code in the U.S. – 99950, located in Ketchikan, Alaska.
Two incredible cities are also the most popular embarkation ports for Alaskan Cruise – Seattle and Vancouver. They both offer plenty to explore pre- and post-cruise.
We started with a 12-hour layover in Seattle. If you are like me and Seattle has been on your mind, do check out the blog:
You'll find a perfect itinerary for a layover and more.
We explored the Pike Place Market, Space Needle and Snoqualmie Falls. Not to miss the delicious food and our six stops PLUS a shopping at Sephora's escapade during this layover.
From Seattle to Vancouver, we flew in a day before our cruise. I do recommend planning this differently. Regardless of your mode of transportation, Vancouver gives visitors a sampling of what to expect from this Canadian seaport. An ethnic melting pot, nearly 35 percent of the residents are foreign-born.
Where to start? Canada Place – because the city's most popular attractions are within a two-square-mile from this point. A unique selection of harbor ferries, hop-on-hop-off buses and the SkyTrain makes it easy to get around. No wonder it's been consistently rated as one of the most livable cities in the world by the Economist Intelligence Unit. The 2010 Winter Olympic Games allowed the city to shine in the world spotlight; the Olympic cauldron still stands near the port at Coal Harbour.
With little planned (except my sister's shopping spree!), we spent time wandering the city, exploring the culture, and soaking it all in. Bicycles offer the best way to explore this city, and I can see why people fall in love with Vancouver. Renting a bike is easy, especially in and around Canada Place. The dynamic city caters to all age groups and is particularly friendly to pedestrians and bikers, and even the most navigationally challenged visitors can find solace.
There are a few must-dos that I'm sharing and a few others that remain a surprise for those who join us on our 2024 Alaskan Cruise Group.
Stanley Park
The federal government designated This free-to-all park as a National Historic Site of Canada in 1988. Cycling or strolling alongside the famous 8.8 km Seawall is very popular in Vancouver. Stanley Park is bigger than Central Park and offers breathtaking ocean, mountains and the city skyline views. There are three beaches in Stanley Park, starting from English Bay, the second beach has a heated swimming pool, and the third beach features beautiful views of the sunset and has lifeguards in summer.
Allocating about 2 hours is a great start. But of course, those planning to visit the Aquarium or ones with time at hand can plan a day at the park.
Capilano Suspension Bridge
A free shuttle from Canada Place is the best way to get here, offering a return service. Proof of Park admission is required to catch the return shuttle.
The Capilano Suspension Bridge is 460 feet long and 230 feet above the Capilano River in North Vancouver. The legendary suspension bridge draws over 1.2 million visitors per year. It is surrounded by rainforest and has adventures like tree walks, and cliff walks to explore, apart from the totem poles.
Fly Over Canada
Roller coaster lovers, this one is a must for you. Located at Canada Place, it is in the same building as the cruise ship embarking terminal. There are limited tickets for this 3D flying experience, which takes you coast-to-coast in Canada.
There are several Alaskan cruises to choose from. While most offer similar itineraries, the duration, demographics and price could be key factors when deciding which cruise line to go with.
We were on board for a 'sampler' 5-day experience as part of the Princess Conference. Extra days are a must, be it by sea or land. Anyone looking to be mesmerized (like us!) should undoubtedly opt to cruise in and out of this state. Did I mention that after this, I have only two more states to visit before I complete all 50 before I turn 50?
Digressing here – join me in Belize as I turn 50 and LDTG turns 10!
Check out the tour planned by clicking here.
Back to Alaska. With Ketchikan as the only port of call, this unique itinerary offered an up-close exploration of Alaska's southernmost city – a destination filled with rich cultural experiences and stunning natural attractions.
As the ship navigated the pristine waters of British Columbia's coastline, our days at sea were filled with exploring the cruise line and experiencing it first-hand. Boarding the vessel took almost two hours. A bit chaotic with little staff to guide people through the process. Once on board, we savoured delicious food and elite overall customer service. It was a bit patchy now and then, but I liked that we could use an app to order. Whether the delivery makes it to your room is questionable. So, keep a watch, especially if it takes longer than anticipated. Their stateroom accommodations offer a comfortable night's rest (I loved their bed!). Medallion Technology is above the rest. Disembarkation was efficient and streamlined.
Overall impression – this cruise line is perfect for a few, while others would need to schedule a consultation by clicking here to discuss options for their Alaskan cruise journey.
Getting to the meat of the journey – Ketchikan. Known as the "Salmon Capital of the World." Alaska's rich and misty southeast place is rich in Tlingit (Native) cultural history and colorful totem poles. The city offers many unique shore excursions for your family to enjoy. Don't miss Creek Street – a historic boardwalk with charming shops overlooking Ketchikan Creek.
What to do when in Ketchikan? Since our cruise halted for 9 hours, our activities were all time bound and had to include a shopping spree (my sisters ask, you know that!). We opted for the Lumberjack Show and All You Can Eat Crab as part of the cruise's shore excursion offerings.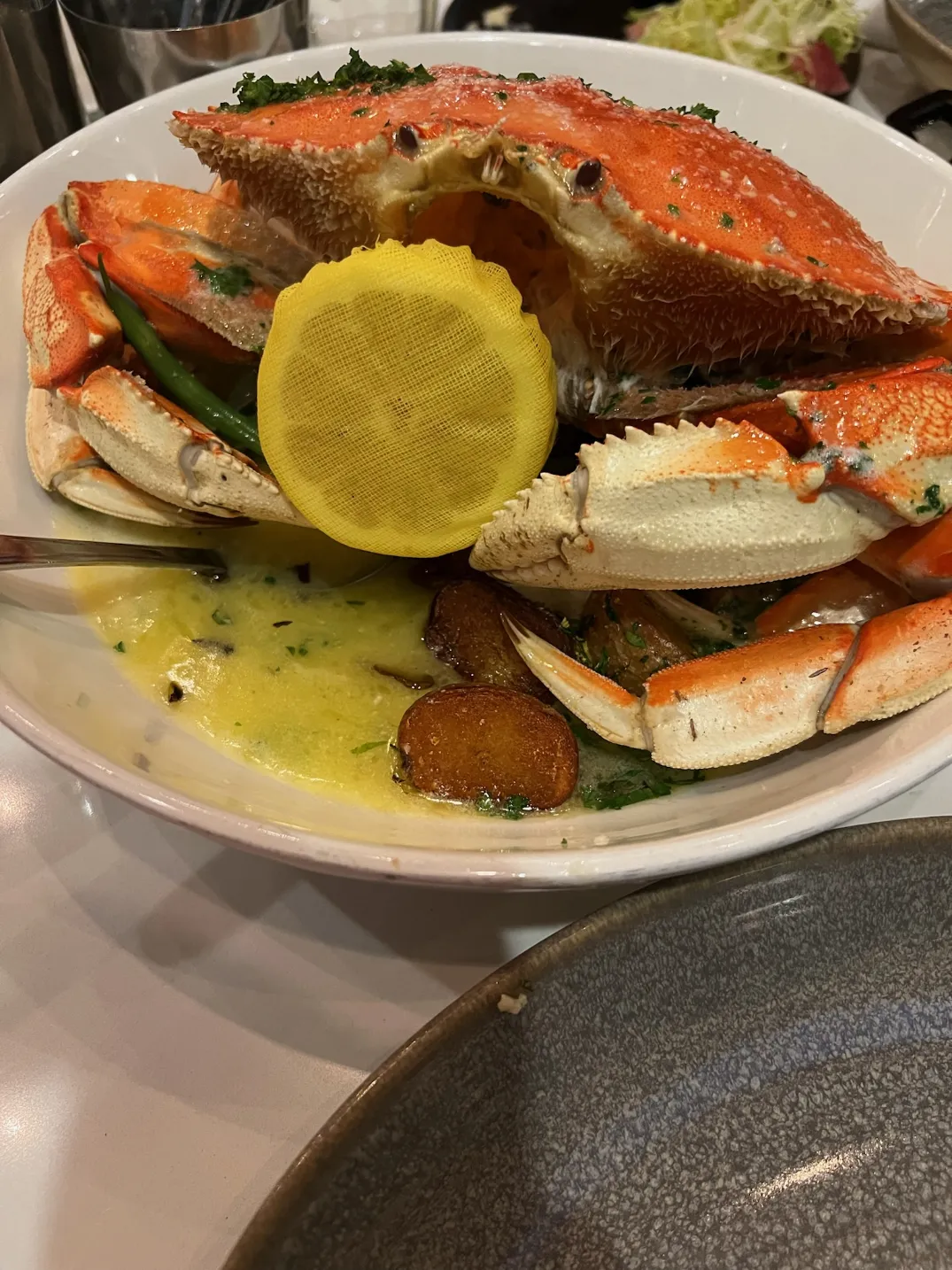 The lumberjack show was about a two-block walk. We witnessed an action-packed competition and cheered the teams of World Champion lumberjacks. There were events such as chopping, axe throwing and tree climbing, all in the comfort of a heated outdoor arena. The adventure-packed show lasted about an hour, by which time we were ready for the next adventure – Crab legs!
If you have not opted for the shore excursions (I don't recommend that), you can walk two blocks to the bus stop near the dock and get on a 15-minute bus ride (with narration) through town to the restaurant on the water. Those who don't want to take the steps down and back, guess what… they have a courtesy VAN to drive them down to a level close to the restaurant.
Given the short time in Ketchikan, I am so glad we planned and went easy on our breakfast. The amount and quality of the fresh, all-you-can-eat CRAB blew us away. We also had a salad (☹ Oops, No dressing) and an excellent cheesecake for dessert. Not sure if drinks were unlimited, but let's be honest, once the crab starts coming, that's the priority. They brought as much as we wanted; the only restriction was time. They were always there with refills on crab and butter! It was yummy!
We were stuffed and Happy to have chosen this tour.
Would I do it again? Oh yeah! in a heartbeat!
There are many other shore excursion options, something I will cover in-depth in another blog. For starters, the Bering Sea Crab Fisherman's tour (3 to 3.5 hours), Tatoosh Island Sea Kayaking (4.5 hours), Bear Creek Zipline Adventure (3.5 hours), and Misty Fjords National Monument (2 hours) will ensure you get the most of your time in Ketchikan.
As we returned to the Canadian waters, I rejoiced, having created an honestly (and most, if I may say so) memorable journey of my life to date.
"When a chef makes food that touches your soul, in the end, you wish you could have had a little more." Such is the feeling you get while taking a 7-day excursion to Seattle-Vancouver-Ketchikan. It would always leave you with a sense of wanting more!