Celebrate with US in Belize
Alyshia's 50th Birthday & LDTG's 10th Anniversary
Ten years of doing what Lyric and I am most passionate about has been a blessing and I am so fortunate to have clients like you all. She is ALL things Lyric's Destinations Travel Group! I would like to personally extend a personal invitation to come out with us to celebrate in Belize.
Tucked in the pristine pocket of the Caribbean between Mexico and Guatemala, Belize is one of the last undiscovered gems of the world. One of my favorite tropical destinations to date.  The vivid colors, the laid- back carefree Caribbean vibe, the lush jungles, the lively barrier reef, and the warm people of Belize have stolen my heart.
Hopkins, where both Almond Beach and Jaguar Reef are located, is a Garifuna village on the coast of the Stann Creek District in Belize. Hopkins is considered by some Belizeans to be the cultural center of the Garifuna population in Belize. Both resorts are – THE COMPLETE VACATION – a haven of relation, with an onsite full-service spa, beachfront dining, lounge bar, heated infinity pool, kayaks, bicycles, hobie cat, paddle board, land, and water adventures COUPLED WITH OUR 10-year celebration marks the most unforgettable event of a lifetime.
Everyone ALWAYS has a great time traveling with LDTG.
Check out our photo albums and see this for yourself.
We are so excited to celebrate these momentous occasions with you, and we hope you to see you in Belize.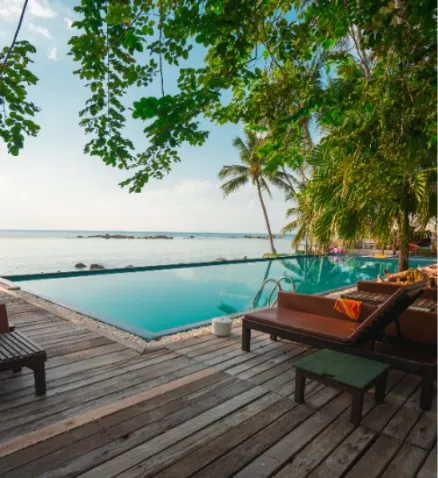 Accommodation Options, Payment & Deposit
Staring at $1100 per person
Jaguar Reef – Single Occupancy
Jaguar Reef – Double+ Occupancy
Almond Beach – Single Occupancy
Almond Beach – Double+ Occupancy
Does not include travel insurance, Don't leave home without it: Book Here
A deposit of $100 per person is due at the time of booking
Up to 7 night Luxury accommodation (must arrive by Friday, 5th April with a minimum of 3 nights)
Daily international buffet breakfast
10-Year party celebration
Round-trip airport transfers
LDTG perks and surprises
Welcome – Meet & Greet
On-site LDTG Staff
Thanks for being an integral party of the Lyric's Destinations Travel Group Community!