The Iberian Experience July 10-22, 2024
Blessed with beautiful beaches and mountainous regions, Spain and Portugal have a moderate temperature that allows for year-round travel. Both countries have big cities with buzzing nightlife and vibrant cultural heritage. Fall in love with Spain, where food, friends, family and fun rule all. Whether you're looking to follow royal footsteps in Madrid, lose yourself in Barcelona's sea breeze, or exploring the night life in Ibiza, adventure awaits around every corner.
So, what are you waiting for, join Lyric's Destinations Travel Group July 2024 , as we bring you to see all that Spain has to offer and more. You will uncover the some of the most mesmerizing sights, from the Palace of Madrid, Le Sagrada Familia Familia in Barcelona, and some of the best beaches in the world at Ibiza.
If you opt to add on Portugal, you will experience Porto's dazzling architecture and the vision of vibrant Lisboa reigning atop her seven hills, to the crimson cliffs of the Algarve down south. This remarkable coastal country is bursting with gems to be discovered.
Don't miss out....Space is Limited...
Spain is always spectacular as was our previous visit. Images speak a thousand words. Check out the video right here and see for yourself. You can also browse our photo gallery to check out how much fun LDTG groups can be.
One Way Flight from IAD to Madrid. However, flights are not published yet, so rates will be provided approximately 11 months prior to travel.
Arrival in Madrid @ Iberostar Las Letras
You will be met and personally greeted like the VIP YOU ARE as you are led to your private transportation after clearing customs and immigration. From their head to the Iberostar Las Letras Gran Vía.
Take a tour, it is amazing!
Iberostar Las Letras Gran Vía, a charming boutique hotel in Madrid's Barrio de las Letras, offers top-notch amenities like "Gran Clavel" restaurant, jacuzzi rooms, free Wi-Fi, and pet accommodation.
Historical Guided Private Tour
Visit Madrid's top attractions in a half-day tour with skip-the-line access. Explore art masterpieces at the Prado Museum and admire the Royal Palace's regal architecture, while learning about Spanish history and culture from your knowledgeable guide.
We recommend exploring Madrid's diverse markets, like El Rastro flea market, Mercado de Motores' fashion and gastronomy, and Mercado de San Miguel's Spanish flavors.
Avila and Segovia Full Day Tour

Discover Spain's ancient cities, Avila and Segovia, on a hassle-free day trip from Madrid. Enjoy a guided tour with historical insights, skipping transportation worries and including tapas.
Depart Madrid and Arrive to Ibiza Twins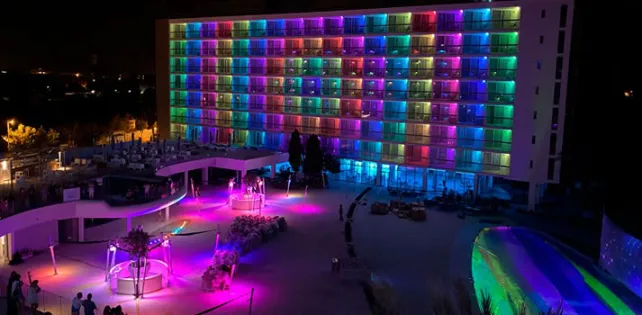 Ibiza TwIIns, a unique 4-star hotel concept, offers 495 elegant rooms in twin buildings Joy and Life, enabling guests to explore Ibizan culture and enjoy innovative technology.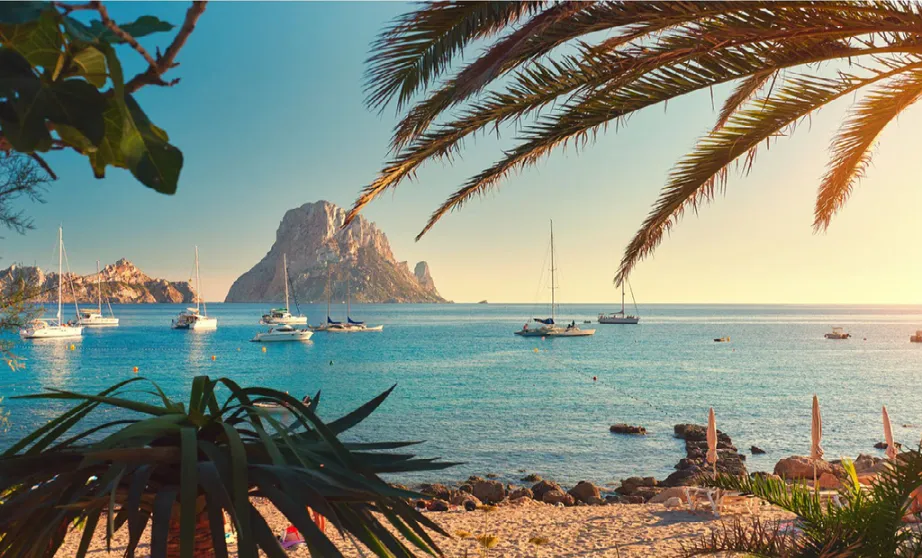 With LDTG, you can enjoy a hassle-free beach-hopping cruise to Cala Bassa and Cala Comte in Ibiza with activities, sunset views, and an optional open bar upgrade.
Day of Leisure on Your Own
Do some Kayaking along Cala Xarraca , visit more Beaches- Cala Tarida , Cala Saladeta or Talamanca….the list goes on.
And who could …….. forget the shopping!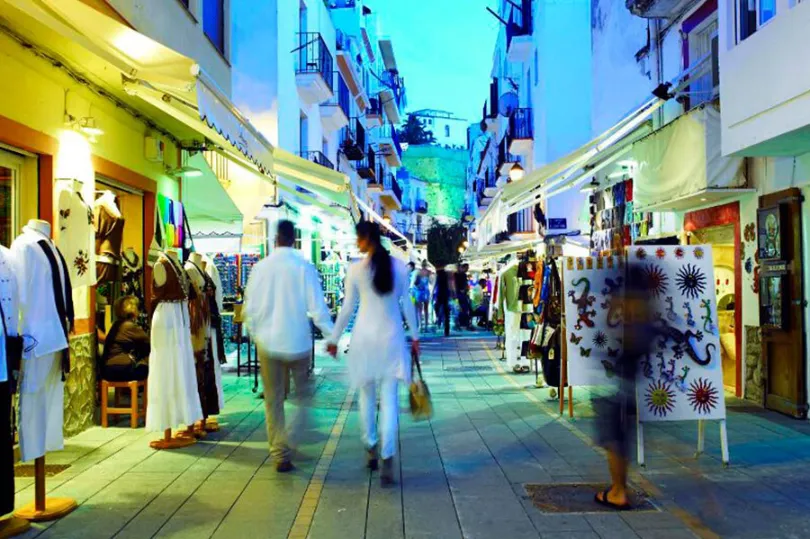 Depart Ibiza and Arrive at Barcelona Arts Resort and Casino
Hotel Arts Barcelona, a premier coastal destination, offers luxurious accommodations and personalized service. With five restaurants, a cocktail bar, an Infinity Pool, a family pool, and the 43rd-floor spa, guests enjoy an unforgettable balance of relaxation and excitement.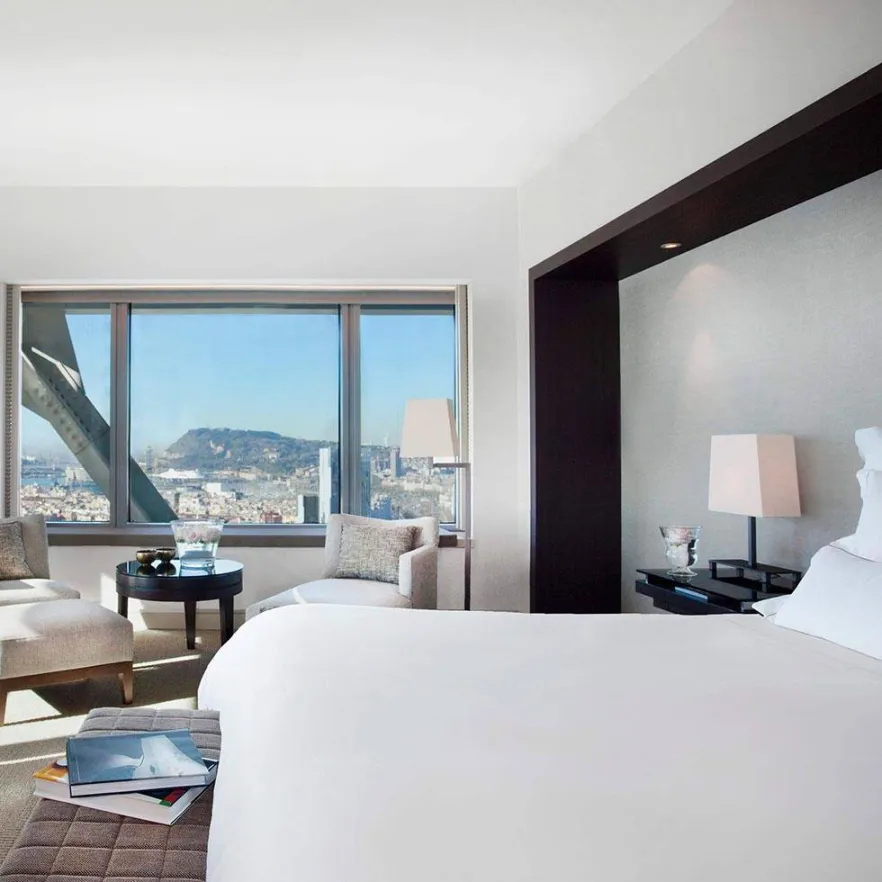 Explore the city your way.
We recommend discovering Barcelona's attractions, including vineyard visits, scenic Costa Brava adventures, and the stunning Magic Fountain at Montjuïc. Enjoy its mesmerizing 15-minute light shows, choreographed water displays, and endless aquatic marvels throughout the summer.
Discover Barcelona's top attractions with a private guide, visiting modernist architecture, Park Güell, La Sagrada Familia, the Gothic Quarter, and Montjüic's city views.
To explore the city on your own. And by this time, if you have not savored Tapas, we'd highly recommend you make the most of today as you walk along the streets of Barcelona.
And…. a farewell dinner before we all get to say adiós España and see you again soon!
One way from Barcelona back to the USA
If you are craving for a little more…
Experience Portugal's winemaking tradition and unique landscapes. Explore lesser-known historic sites in Lisbon, and visit Queluz Palace's gardens and the still-active Ajuda Palace. Ditch typical tours for a different perspective.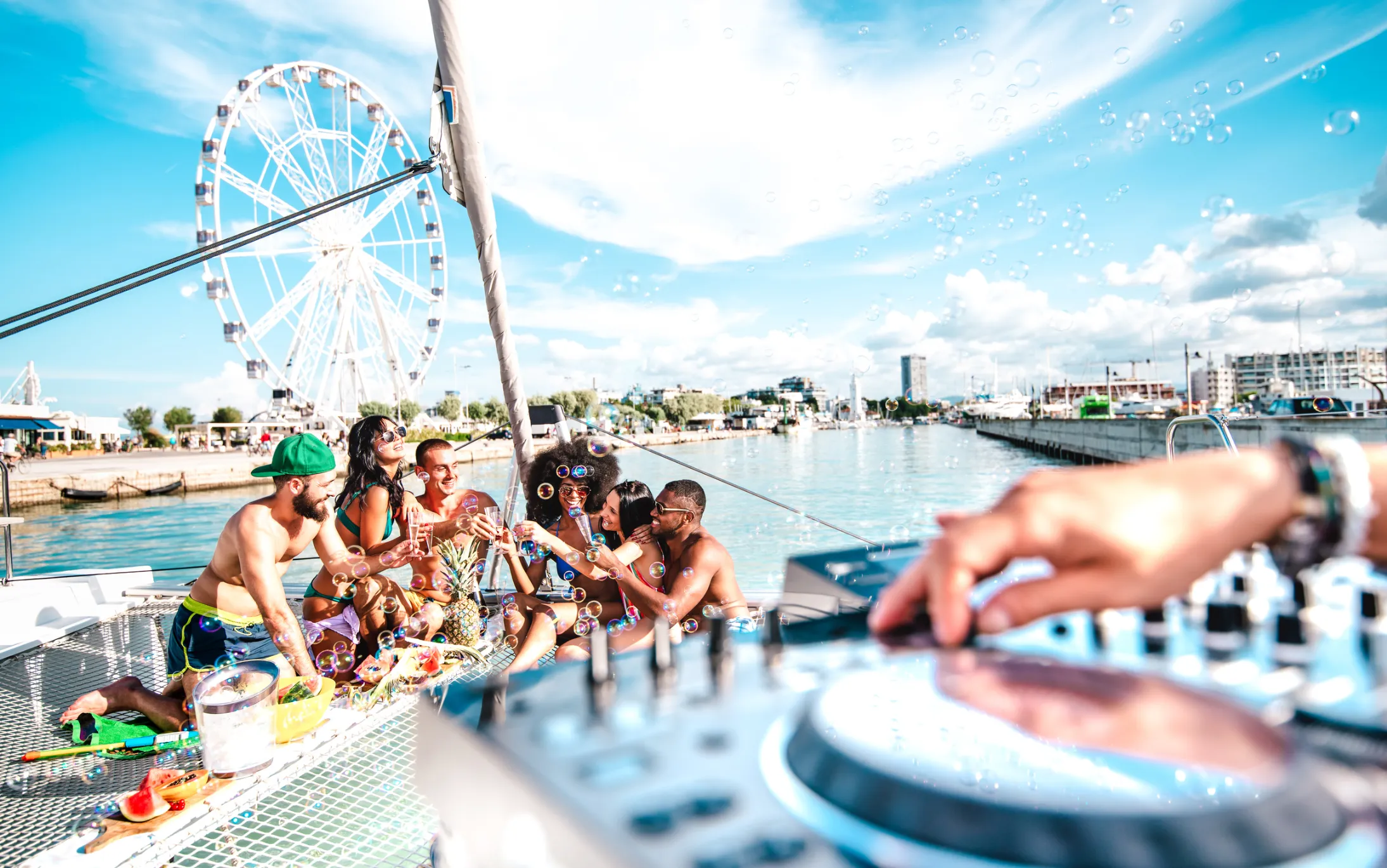 Payment, Deposit & Insurance Options
Package starts at $4099 per person (double occupancy basis). Options for Triple occupancy and different room categories available
Monthly Payment Options Start At Registration or Full Payment Accepted at Time of Booking
DEPOSIT REQUIREMENTS
$500 per person non-refundable deposit. Due Immediately
Hurry and book now! There is limited availability so BOOK NOW!