It has been almost two decades since I last set foot on the beautiful island of St. Lucia, and wow – what a transformation it has undergone! Back in the day, I was merely a traveler staying at Sandals Grande St. Lucian. Fast forward to the present, and I now stand as the proud owner of Lyrics Destinations Travel Group. My recent expedition to St. Lucia was far from a leisurely getaway—it was an opportunity to establish new connections, gather valuable information, and better understand which hotels could cater to my current and potential clients! During my visit to the island, I was able to experience five breathtaking resorts, and I can't wait to share all that I uncovered. Interested? Here is what I found!
If you're seeking an idyllic adults-only retreat, be sure not to overlook Serenity at Coconut Bay and Jade Mountain. For those in search of family-friendly vacations, you'll want to check out Harbour Club St. Lucia or Anse Chastanet. And for anyone yearning for a luxurious resort that offers designated sections for both families and adults alike, Royalton/Hideaway St. Lucia is highly recommended!
So, let's embark on this exciting journey together as we delve into these amazing options!
SERENITY AT COCONUT BAY
32 rooms, all-inclusive, adult-only boutique hotel
My adventure began in the charming south of St Lucia at Eau Piquant, a cozy resort about five minutes from Hewanorra International Airport (UVF) – the only international airport on the island. Although there's another airport in the north, it primarily caters to Caribbean airlines. I must say, my stay at this resort was truly a 'memorable' experience! Given the number of resorts and destinations I have been to, this comment speaks volumes about the hotel.
As my vehicle approached the resort along a lengthy lane, I didn't feel quite excited – it appeared somewhat underwhelming. However, the moment we reached the resort's entrance, everything changed. A friendly butler greeted me by name and promptly escorted us to our private sanctuary. Interestingly, the tiny reception area next to the pool was not being used for check-in or check-out purposes. That didn't take away from my wonderful experience at this picturesque paradise.
The Premium Plunge Pool Butler Suite is a stunning and well-designed space, enveloped by a grand white fence that features its private entrance. As you step onto the expansive deck – reminiscent of a spacious living area – you'll discover a hammock, a wet bar with a fully stocked fridge, and an elegant table and chair set alongside the mesmerizing plunge pool adorned with a lavish waterfall.
Upon entering the opulent bedroom through a second door, unlocked by an electronic wristband, you'll feel the refreshing chill of air conditioning. The room is tastefully minimalist and showcases beautiful hints of blue and earthy tones. The luxurious king-sized four-poster bed invites relaxation while the separate jetted tub and enormous walk-in shower for two beckons pure indulgence. There's also a double vanity sink and concealed commode, elevated on a platform with motion-activated lighting to guide you in the dark. Simply WOW!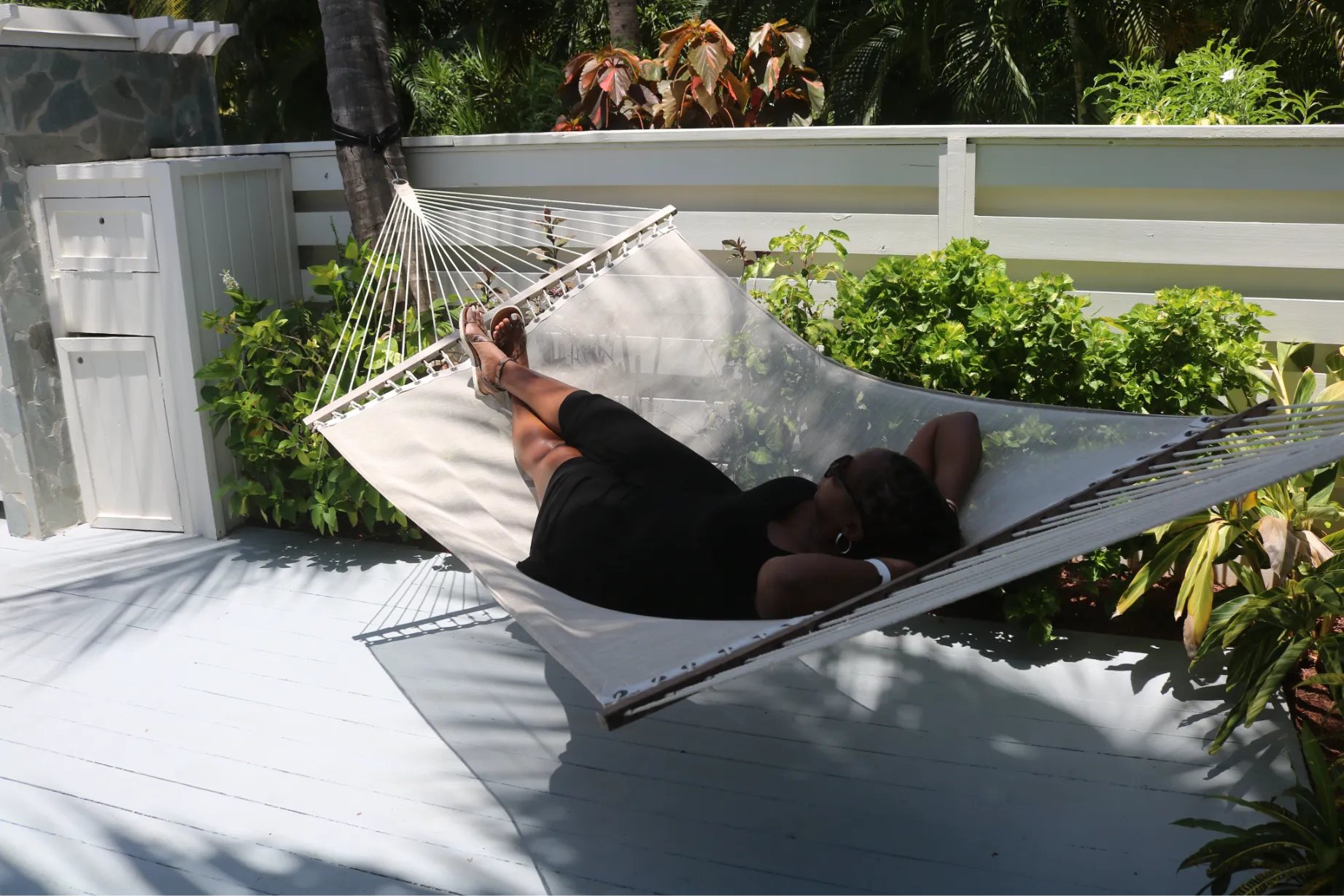 With two sizable wardrobes featuring safety deposits, plush robes, and slippers, there's ample storage space for belongings & luggage. The minor drawback to this enchanting suite is the somewhat tight hallway leading to the commode. During my visit, I noticed subtle signs of wear and tear, which I'm sure the hotel has addressed during their annual three-and-a-half-week closure in September. This maintenance period allows them to refresh and revamp their property, ensuring a top-notch experience for guests.
You'll be impressed by housekeeping's attention to detail as they clean twice daily (without request) – their turndown service is truly top-notch!
Boutique hotels like Serenity often offer good service levels because of their staff-to-guest room ratio (more staff for fewer rooms). With 32 cozy suites currently available and potential plans to add another eight units, the hotel staff ensures a personable, attentive, and thoughtful experience, even as there's still room for growth in anticipating guests' needs.
Serenity boasts of two on-site dining options: a full-service restaurant catering to breakfast, lunch, and dinner needs; and a poolside bar serving lunch. Additionally, 24-hour room service is part of the all-inclusive package, providing an extensive menu that never disappoints. For the two food orders that I placed, I got served delicious, hot, and fresh meals (yummmm!). The alcoholic beverage selection is among the most comprehensive I've come across at an all-inclusive resort (yay!) —complemented by an extensive list of cocktails, AND it includes gratuities (double yay)!
Due to the time constraints and a packed schedule, I couldn't savor the cuisine at their sister property – Coconut Bay. However, it is good to point out that all Serenity guests have complete access to Coconut Bay's food and entertainment offerings.

The beach may be narrow and affected by sargassum and slightly murkier water conditions during certain times of the year, but according to sales staff, it significantly improves during the dry season.
I highly recommend Serenity for a relaxing vacation, but not their sister property Coconut Bay —which is in dire need of renovations despite currently having acceptable amenities like pools and restaurants. Serenity guests enjoy access to the facilities on both properties, but not vice-versa. While Coconut Bay offers morning and evening entertainment options, at Serenity, it's only in the evening. A laid-back atmosphere at the resort can be livelier with guest interaction, but a lot is dependent on the type of traveler.

HARBOUR CLUB ST. LUCIA
115 rooms, European or an all-inclusive meal plan with limitations, family-friendly.
St Lucia may be a mere 27 miles long, but getting from one region to another can be quite the adventure due to the state of the roads, altitude, and mountainous terrain. Our journey from south to north took about an hour and a half without traffic, but it was an enjoyable ride thanks to our driver who stopped for photo ops and shared the island's history along the way. This resort is perfect for those eager to mingle with locals, as St Lucians frequent the hotel for meals & to celebrate special events and holidays.
Our King Marina View room was simple yet elegant, with a terrace overlooking the marina pool. Unfortunately, during our check-in experience, the staff didn't excel at up-selling or providing us with a great room location even though the resort was only at 25% occupancy. The decor featured soothing shades of blue and white along with earth tones. Though the bathroom was adequately sized, it lacked a separate shower and bath – which made figuring out the shower logistics a bit of a challenge, to say the least. Our second-floor room had its perks – we could see and hear the nightly live entertainment by the pool without leaving our space. The mattress wasn't ideal; too soft and low to the ground with slight sagging in the middle. We had to request housekeeping for daily cleanings, but they consistently did a good job.
The resort staff were younger individuals, new to the hotel industry and in dire need of training. To top this up, not engaged with guests and occasionally rude. Confusion regarding all-inclusive and traditional European meal plans during our check-in process was not how we had hoped to start our experience at the hotel. Thankfully, management cooperated and waived the charges we incurred because of the lack of understanding (or could it be explaining?) of how meal plans worked at this hotel. I'll certainly be careful if I were ever to return or send a guest their way!
With an all-inclusive plan, you'll have access to Dockside Pizzeria and Julias, but 7th Heaven and the Sushi Bar aren't part of the package. However, you can enjoy a 50% discount at 14 North, a cozy enclosed rooftop restaurant. Hand's down, my favorite meal during the stay here was their Sunday brunch at their 7th Heaven restaurant. I indulged in a lobster omelet while my partner devoured a massive rib-eye. An appetizing meal accompanied by live music; just how Sunday brunch should be!
Although we enjoyed our dinner at Julia's, it's worth noting that most menu items and the top-shelf drinks are not part of their all-inclusive plan. The cocktail selection was satisfactory. Plan inclusions (and exclusions) are neither available on their menus nor mentioned upfront or stated as we placed our order. Needless to say, it led to unplanned meal expenses while on an all-inclusive plan.
The hotel's location is fantastic for those seeking convenient access to shopping and vibrant nightlife. Don't miss out on Friday Night in Rodney Bay, a short 5-10-minute stroll from the hotel. For a more local experience, head over to Pigeon Island (a quick 7-10-minute drive) on Sundays – it's a popular spot to swim in an open beach (with minimal seaweed) while enjoying live music from nearby restaurants/bars and local cars. It is good to know that the property is next to a marina and has no beach of its own.
I might recommend this hotel only after thoroughly informing potential guests about the differences and pros/cons of choosing between a European Plan or the All-Inclusive option. The management responded well when I brought up our concerns surrounding the meal plan; they shared their plans for improving the process moving forward.
JADE MOUNTAIN
49 rooms, European and an all-inclusive meal plan, adult-only boutique hotel
Reaching Jade Mountain might seem challenging, but once you conquer the winding, narrow roads often bordering cliff edges, you'll be captivated by its beauty. If you're prone to motion sickness or fear heights, consider opting for a helicopter or ferry transfer instead. A guard awaits to welcome you at the start of the final stretch, contacting the resort for entry approval before a well-used minivan escorts you to the grand entrance. Although initially underwhelming, prepare for your jaw to drop as you step inside this land of paradise.
Jade Mountain's history is akin to a love story, as owner and architect Nick Troubetzkoy's admiration for St Lucia led to the creation of this globally renowned, luxurious property. His vision sought to connect visitors with nature and local communities while minimizing environmental impact. He hoped this would foster an appreciation for the culture and country he and his wife have called home since the 1920s.
The Moon Sanctuary boasts a secluded landing area for each guest and has a majestic mahogany door standing 12 feet tall. Upon entering, you'll feel as though you've discovered your haven, spanning 1600-1900 sq. ft. (each room is unique) and complete with an infinity pool stretching over 600 feet. Despite having only three walls and no air conditioning units, the natural breeze creates excellent circulation throughout, leaving guests comfortable and relaxed. A Major Domo (butler) attends to your every need with continuous availability. They strive to create one-of-a-kind experiences that indulge their guests fully utilizing a "firefly communication device" handed out during check-in.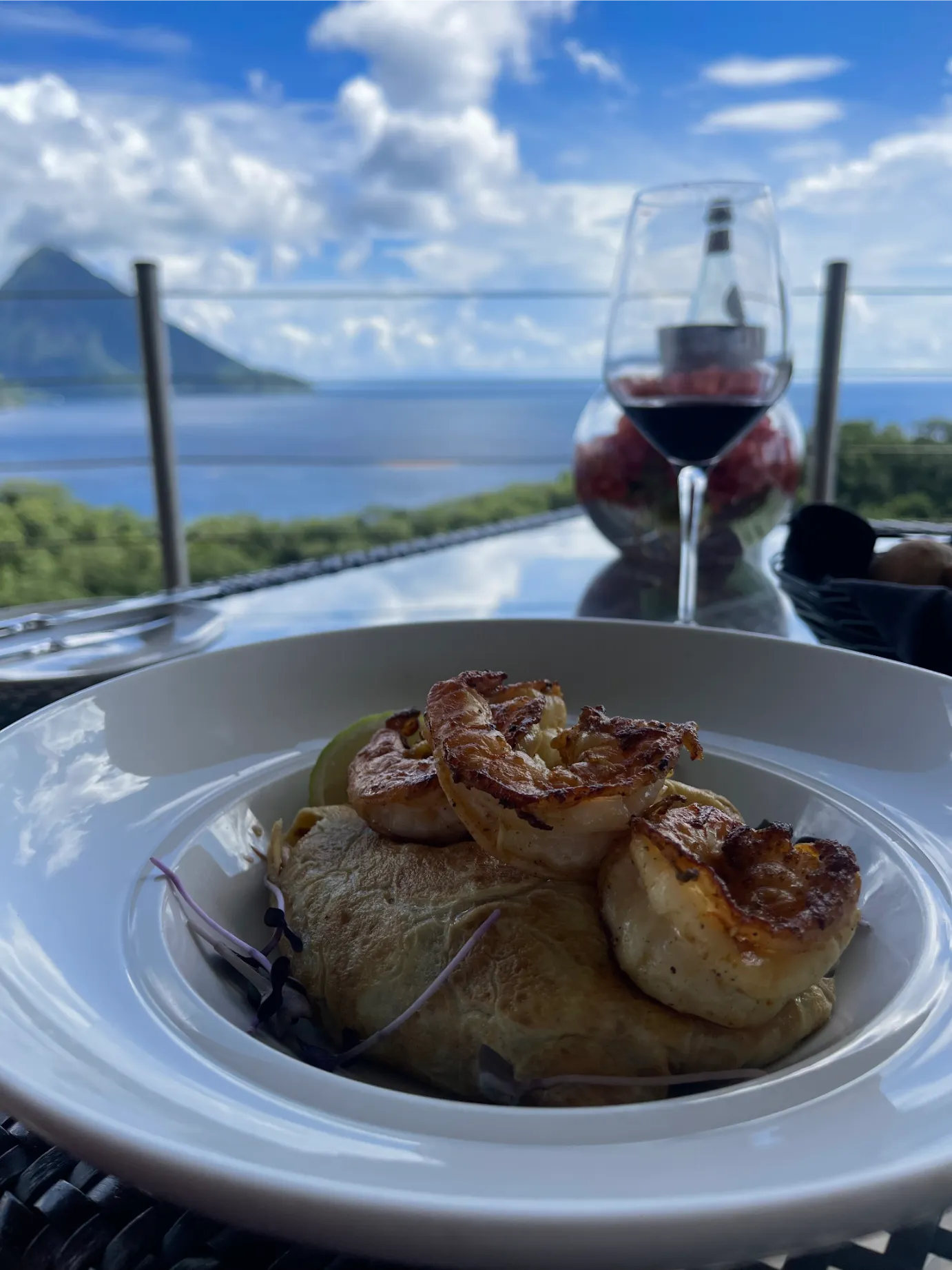 The property hosts one main restaurant but offers full exchange privileges with sister establishment Anse Chastanet – which sits downhill and features three additional dining options. I enjoyed lunch during my stay; it was tasty, especially when paired with a Cabernet Sauvignon – but not exceptional. Even though I couldn't sample more meals, the enchanting service and stunning views made a lasting impression.
Behold the breathtaking view of the Pitons, Gros Piton, and the beach – unlike any other on the island. This location is a dream come true for nature lovers, passionate hikers, or anyone searching for rest, relaxation, and rejuvenation. While reaching this haven might be challenging, once here, you'll feel like you've received a piece of heaven, making you wish never to return to the mundane world. As delightful as it is, the property isn't suitable for those with mobility issues. Though lacking a beach, its sister property Anse Chastanet offers beach access just down the hill (with trolley service available).
ANSE CHASTANET
49 rooms, European and an all-inclusive meal plan, family boutique hotel
Nestled at the base of the majestic Jade Mountain, with its stunning black sand beach (virtually sargassum-free) and tiki huts paired with loungers stretching as far as the eye can see, welcome to paradise! With engaging staff and an excellent array of activities, I can confidently recommend this property. Every guest is treated to a personalized orientation the day after check-in. With that said butler service is not available here. To experience the best of both worlds, the two hotels (Anse and Jade) collaborate to offer their guests a "Yin Yang" split stay.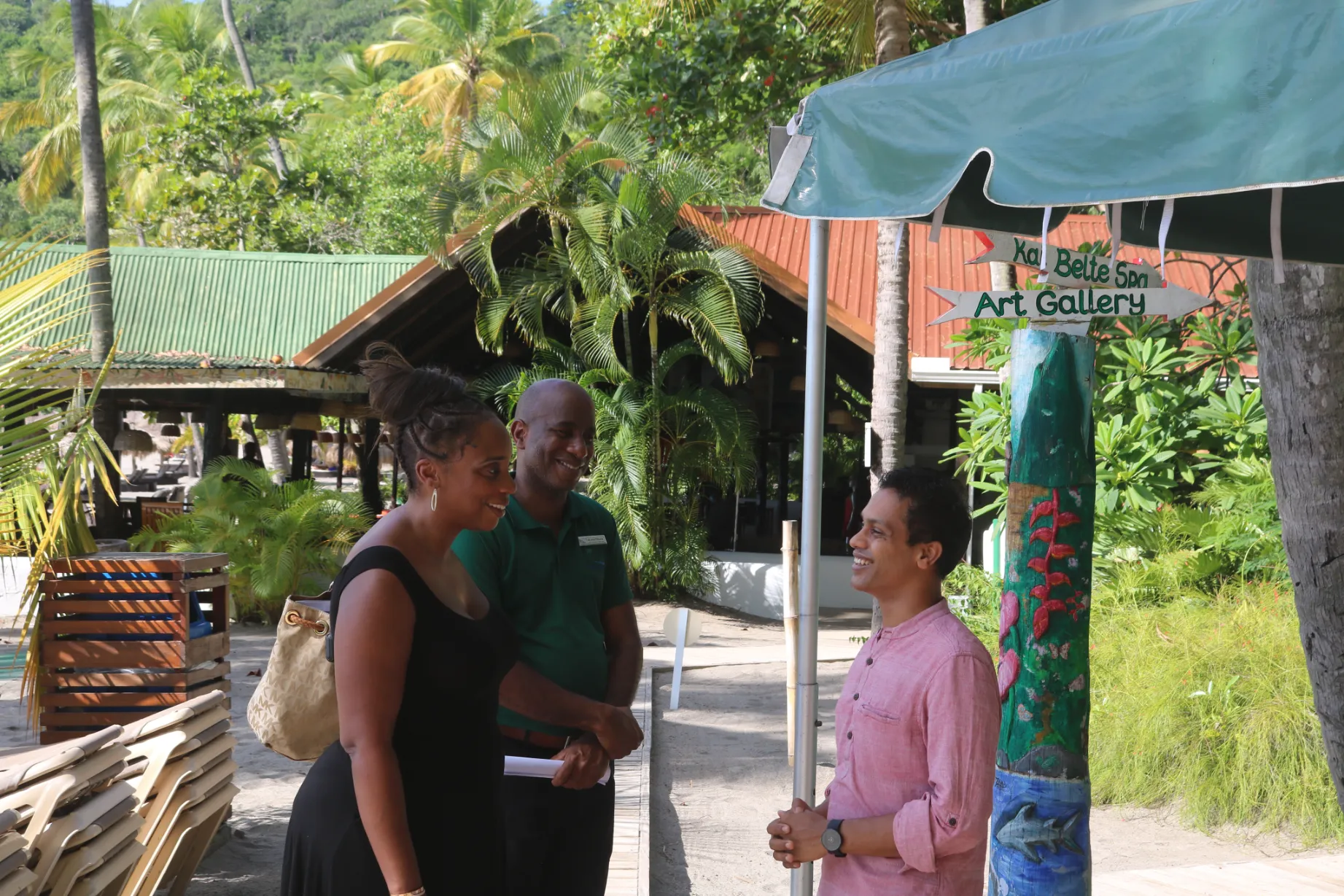 Anse has a lot to offer – activities like chocolate making, art classes, motorized and non-motorized water sports, daily yoga and Pilates sessions, an on-site brewery featuring craft beers, and lively evening entertainment. Embracing a similar philosophy as Jade Mountain, only one family beach house on-site offers air conditioning (AC). Otherwise, rooms remain au naturel to blend with their surroundings.
When it comes to their accommodation offerings (Hillside Deluxe Rooms and Superior Rooms View 1 only), think bohemian chic meets Martha Stewart. Simple and tastefully decorated. I felt that hillside rooms maintained cool air, similar to that at Jade Mountain, while rooms located at the mountain's base may cause some airspace issues. And as a bonus, they have four walls instead of Jade Mountain's distinctive three-wall design.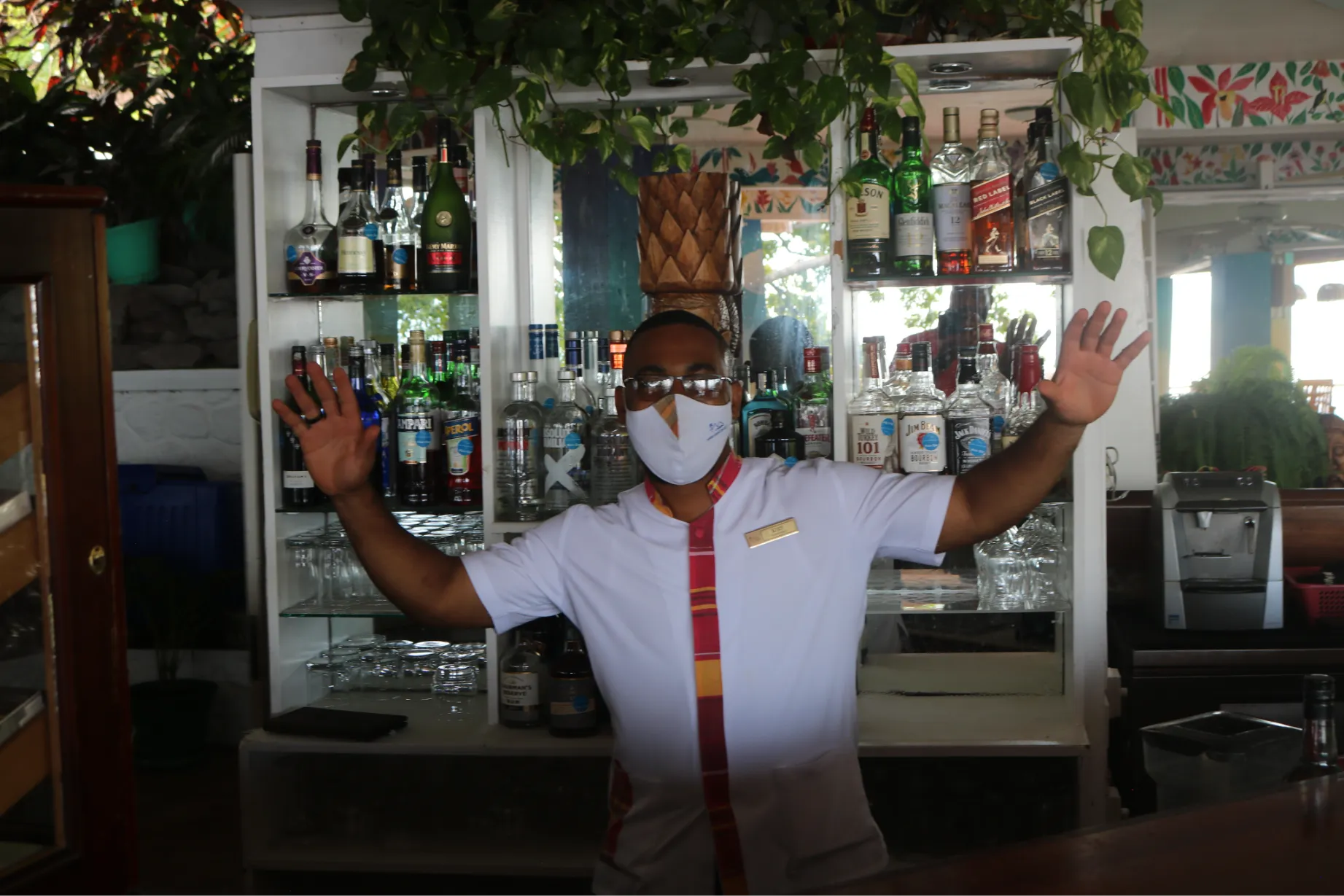 During my visit, I enjoyed some delicious hors d'oeuvres and sampled their in-house craft beer, and both have left a lasting impression on me. Appetizers were perfectly seasoned, flavorful, served piping hot, and cooked to perfection, unlike my experience at Jade Mountain. Despite not being a beer drinker, I can comfortably suggest trying their craft brews from their on-site micro-brewery. I found them quite delectable. Their beer menu is constantly updated and tailored according to the season and feedback from their guests – keeping things fresh and exciting!
ROYALTON/HIDEAWAY ST. LUCIA
453 rooms, all-inclusive, Family & Adult-Only section
Based at the northernmost tip of the island, this property boasts a breathtaking bay view. It takes roughly an hour and 45 minutes to drive from UVF, the island's only international airport. Alternatively, you can opt for a ferry or helicopter ride at an extra cost. While the car journey wasn't as hilly or turbulent as driving to the western part of the island, I would advise those prone to motion sickness to choose the helicopter option.
This unique property delivers a two-in-one resort experience – Royalton for families and Hideaway for adults only. As their Hideaway guest, I felt that the resort has perfected this model (combination of family & adult-only) at this location. From observation (and personal experience), both families and adults seemed satisfied with their stay due to the well-thought-out division.
The resort presents a harmonious blend of laid-back and lively vibes in each area. The grounds are impeccably maintained, although upgrading the furnishings' quality and durability could be considered. It's important to note that not all Royaltons/Hideaways are created equal – each location demonstrates varying levels of service and operational efficiency. As a travel agent, I am often invited for hotel visits because of my rapport created due to the sales volume.
The rooms are spacious, featuring sleek and modern décor. A massive jetted tub sits in the center of the room with a privacy curtain. Upon entering, I noticed a mildew smell common to Caribbean destinations. Although the front desk tried to address it, they weren't able to take away the smell entirely. I opted not to switch rooms because I adored my corner swim-out suite overlooking the ocean.
This resort attracts a significant European following. This was evident from the electrical outlets available in the room; both US and European plugs could be used without an adaptor. Some wear and tear were visible in the room, and I noticed it on the bathroom mirrors, swim-out tiles, and beach loungers, but it didn't detract from my overall experience.
Most staff members were friendly and eager to help out. A minor issue encountered involved not receiving washcloths during room service – possibly a European custom adopted because a large set of their clients are European.
Every morning, I indulged in a delightful breakfast at the buffet and hideaway restaurant. The food was always fresh, hot, and the variety was simply amazing. Although I tried the jerk hut by the pool, it didn't quite meet my expectations as a Caribbean food enthusiast. On a brighter note, the Italian restaurant Grazie treated my taste buds to a delicious and perfectly seasoned lunch. The all-inclusive plan offered ample options, with lobster and tomahawk steak being the only exclusions. Keep in mind that wine does come with an extra charge.
As guests of the hotel, we experienced special dinner menus each night that exceeded average expectations. During our stay, we also took part in a one-of-a-kind 7-course culinary experience (priced regularly at USD 115 per person) which did not quite live up to what one would expect for the price. The overall food quality was not impressive, so I ended up dining at Dorado – the steak house. I have to say this – that was a satisfying meal! The steak was expertly seasoned, perfectly seared, and cooked at just the right temperature.
Nestled near the must-visit attractions of Pigeon Island and Rodney Bay, this resort offers an unbeatable location for your next getaway. Details on these hotspots were available at the Harbor Club. Hotel guests experience the vast expanse of the pristine white sand beach while lounging under a tiki umbrella. There was no shortage of loungers and umbrellas; even during peak periods, finding a comfortable spot to unwind was a breeze.
Inviting turquoise waters gently embrace the shoreline. Though not crystal clear, you'll have plenty of room to wade up to 3-5 feet from the coast. I was pleasantly surprised by the calm seas despite my visit falling during the hurricane season.
Take advantage of the myriad of water activities available at no extra cost as part of the all-inclusive package. Witness fellow guests delighting in kayaking, paddle boarding, and lots more. So, why not indulge in these thrilling experiences on your next vacation at the resort?
Concluding our fascinating journey through St. Lucia's hotels, here's a summary and evaluation of the accommodations we've discovered and enjoyed.
| | | | | | |
| --- | --- | --- | --- | --- | --- |
| HOTEL NAME | ROOM | SERVICE | FOOD/DRINKS | LOCATION / BEACH | OVERALL |
| Serenity at Coconut Bay | 8.5 | 9.5 | 9 | 8.5 | 8.9 |
| Harbor Club | 7.5 | 6.5 | 8 | 9 | 7.75 |
| Jade Mountain | 9.5 | NA* | 8.5 | 9 | 9 |
| Anse Chastanet | 8 | NA* | 9 | 9 | 8.6 |
| Royalton/Hideaway | 8 | 9 | 8.5 | 9.5 | 8.8 |
NA* – No service rating because I was there for half a day.
Though each resort had its charm, Serenity at Coconut Bay truly captured my heart. Perhaps if I'd had more time to explore Jade Mountain and Anse Chastanet, my opinion might have been different.
Every resort is unique and has its qualities and attributes that may align with one traveler but not another. I have successfully matched hundreds of vacationers with destinations, hotels, tours, and resorts. What are you waiting for?